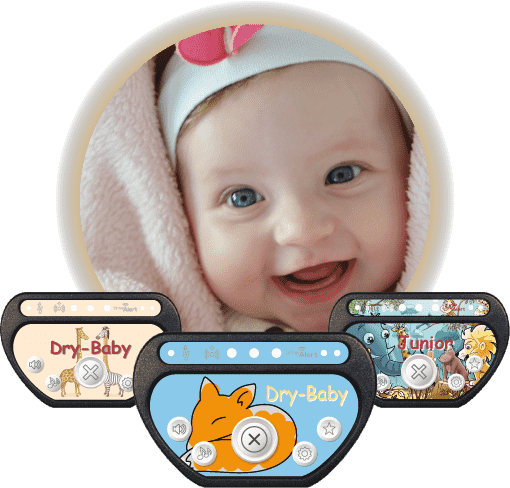 Diaper Rash
for Babies & Young child
HOW URINE-ALERT
CAN HELP YOU ?
Urine-Alert helps you prevent irritation
Your little treasure is now at home and you take care of him.
However, despite all the care and attention you lavish on him, he has his buttocks completely irritated and it is very painful.
Urine-Alert helps you to relieve your child
and enjoy its smiles.
Diaper Rash  –  Irritated Buttoks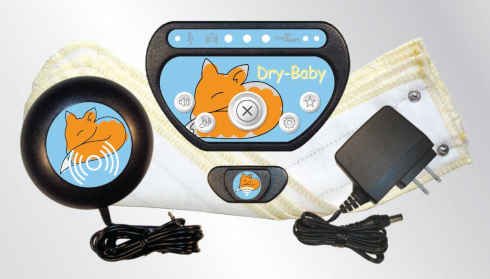 Urine-Alert
Urinary detection Alert
Know exactly when the baby diaper needs to be changed.
Helps to prevent and relieve Buttocks irritation.
No need to constantly check if the diaper is wet.
Allows better management of diapers changes.
NOTE: The Urine-Alert device should only be used to notify parents that the baby's diaper needs to be changed, not to awake or surprise him.  See usage mode below.
How Urine-Alert can help you ?
You know that …
Even if you change your baby's diaper regularly, it is not uncommon for your baby to wet his diaper only a few minutes after you change it.
And most of the time, without you even knowing it.
It will then be quite some time before the next diaper been changed. And that is normal, because you do not have much time, so you can not check the diaper every two minutes.
Urine-Alert does it for you.
Urine-Alert monitors for you, all times, your baby's diaper and warns you in real time when it needs to be changed.
You can then change it at the right time and prevent your baby's skin from staying in contact with urine for too long.
You will greatly improve the comfort of your "Toddler" and you will avoid the painful redness and irritation, often caused by prolonged contact of the urine with the baby's skin.
In some cases, your child will already have redness in the buttocks caused by fever, toothache, etc.
The proper use of your Urine-Alert device, allows you to reduce the pain caused by urine on your baby's skin who is already irritated
This will certainly facilitate healing.
Urine-Alert helps you to take care of your little Baby.
Do not wait any longer and treat yourself to peace of mind and comfort for your little treasure.
How to use Urine-Alert with your baby?
The use of Urine-Alert for your baby is extremely simple.
First, remember that the device should be used to advise you (parents) that your baby has wet his diaper and, not for waking the baby up or surprise him.
During the day
With this in mind, place the device in the room where you are, or as far as possible from your baby.
If your baby is in the same room as you, use the soft sound at the lower volume.
You can also mute the volume and use only the lights as an alarm.
During the night
It is advisable to use it at night, especially if your child has sensitive skin or is already irritated.
At night, the appliance must be installed in the parents' room to alert them when the diaper is wet so that it can be changed.
You will benefit from using the vibration to wake up only one of the parents.
Do not put the alarm in the baby's room. Keep it with you in your room.
Remember that the Urine-Alert device should not be used to wake or surprise your child.
In conclusion
The use of Urine-Alert on a regular basis improves the comfort of your child, and allows you to prevent these irritations rather than having to treat them.
So, less pain for "Baby" and better management of diaper changes for yo.
Also, you save on buying creams and others things.
"Baby" will thank you with beautiful smiles.
How does the device works.
Your Urine-Alert device offers you several adjustment options to suit your needs and preferences.
Choice of sounds and soft music.
Adjustable volume and silent mode..
Vibration to place under the mattress or pillow.
Accompanying lights and security.
Wireless detection, fast and comfortable.
Step 1: The flannel detection strip is placed in the child's diaper like of a sanitary napkin and attached to the small wireless transmitter, which easily attaches to the diaper's belt.
Step 2: When the child begins to urinate and the transmitter detects it. It will transmits the alert to the main unit, who will advise you according to the settings (music, vibration and lights) you have chosen.
THE MAIN UNIT
BUTTONS
1.  Adjustable volume
2.  Choice of sounds and music /  Listen to the sounds here
3.  Stop button (center)
4.  Adjusting Settings
5.  Test / Simulation
6.  ADDITIONAL LIGHTS
Three (3) lights (del) at the top of the unit will illuminate for sufficient ambient light, but not dazzling.
VIBRATION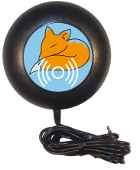 The vibration is plugged behind the main unit and can be used during the night to wake up parents.
Place it directly under the mattress or under the pillow according to your choice.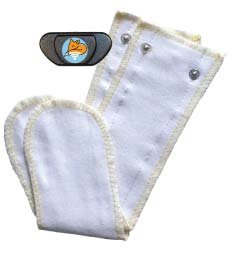 WIRELESS DETECTION
Flannel detection strips
The wireless detection of your Urine-Alert device is extremely fast and above all, very comfortable.
The strips are made in soft flannel, washable and durable.
Just insert it into the panties for quick detection from the start of urination. 
Wireless transmitter
The small wireless transmitter is also very comfortable due to its rounded shapes.
It easily to install on the belt's of the diaper.
Easy and fast maintenance
The detection strips are washable, same thing for the dryer.
However, if you do not have washing clothes to do, you can easily wash them at the sink, wring them out by hand and let them air dry during the day.
Cost-Effective and more Eco-friendly
By using your Urine-Alert device, you will benefit from better management of diaper changes
You will save on the purchase of creams and other products, sold for the treatment of diaper rash.
Since you will make the diapers changes at the right time, you will reduce the number of diapers needed.
This will prevent hundreds of diapers from going to trash. It's a good gesture for the environment.
Urine-Alert will save you time and money.
Support and Monitoring
When you buy or rent a Urine-Alert device, you benefit from:
A full month of follow-up with an Enureflex advisor.
Support-advice at will.
This follow-up is done in order to allow you an optimal use of your device according to your purpose.