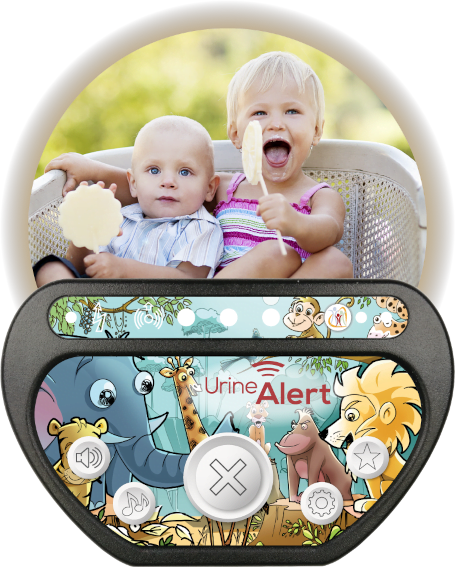 Toilet-Training
Young Children
(18 months – 3 years)
HOW CAN URINE-ALERT HELP YOU ?
Is your child is ready to start toilet-training ?
This period of training is often feared by parents who do not know how to do it.
Many will lose patience on occasion, believing that the child is showing bad will.
Discover how Urine-Alert can make it so easier for you and your child.
Young Children  (18 months – 3 years)
Urine-Alert
Urinary detection alarm
Facilitates and improves interaction with your child.
Allows parents to react better and at the right time
Eliminates the need to constantly ask the child if he feel the need to pee.
Know exactly when to intervene with your child.
NOTE: As part of the toilet training use, the Urine-Alert device should only be used to notify parents to allow for better interaction with the child, not to wake up or surprise the child.
How can Urine-Alert help you?
URINE-ALERT  detects and warn you in real time as soon as your child begins to urinate.
Being informed quickly, you can intervene immediately with your child and calmly discuss with him what he should have done.
More effective intervention
The intervention will have a much more beneficial and effective effect because it is instant 
It will be much easier for your child to make the link between your intervention and wetting his diaper.
At what age can we start Toilet-Training ?
Usually, we can start toilet-training towards 2 years or a bit before according to the situation.
As a first step, your child must be ready and motivated enough to take it.
The purpose of Urine-Alert is to facilitate the learning process.
Bed wetting or Wetting during naps
If your child wet the bed during the night or naps, we recommend waiting until the age of 4 years.
At this age, if he still wet during the night, then you can use your Urine-Alert device to help him.
How to use Urine-Alert for Toilet-Training ?
Toilet-training is done during the day only.
At this stage, it is not useful to use the device during the night.
Remember that your device should be used to notify YOU (parents) that your child is urinating now in order to be able to intervene more quickly and calmly explain the consequences.
Do not use it to wake up or surprise your child, it is not the goal.
1. Place the unit in the house on the same floor as you will have to close the alert.
2. Adjust the volume and choose your sound track you prefer that suits you.
3. If desired, you can use the silent mode, that is, mute the volume and use only the lights as an alert.
4. If you are sitting in a chair, use the bed shaker under a cushion.
During an alert
During an alert, intervene immediately and calmly explain to your child that must and must not do to avoid wetting his bed.
If necessary contact your Enureflex advisor for proper advice on using your device.
How does the device works.
   Your Urine-Alert device offers you several adjustment options to suit your needs and preferences.
Variation of options for the sounds and music.
Adjustable volume and silent mode.
Vibration device to place under the mattress or pillow.
Accompanied by lights of security.
Wireless detection, fast and comfortable.
Step 1:     The flannel detection strip is placed in the child's diaper like of a sanitary napkin and attach it to the small wireless transmitter, which easily attaches to the diaper's belt.
Step 2:    When the child begins to urinate, the transmitter detects it and transmits the alert to the main unit, which will alert you according to the settings you have chosen.  (music, vibration and lights)
Cost-Effective and Eco-friendly
The fact that the device helps with the management of changing the diapers, it automatically reduces the number of diapers you use.
Reduced amount leads to saving money and the environment.
Each year tons of diapers inter the landfills of Canada.  By managing the use of them we can lower that number.
In many ways, getting your own urine alert is a big help.
Support and Monitoring
When you buy or rent an Urine-Alert device, you benefit from:
 A full month of follow-up with an Enureflex advisor.

Support advice at will.
This follow-up is done in order to allow you an optimal use of your device according to your purpose.